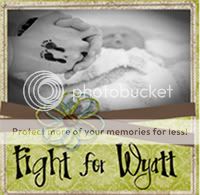 What can you do in 2 minutes????
live, die, be born, eat, sleep, wake up, go to bed, smile, cry, run, hide, watch a commercial, type an answer, log in, log out, dial a number wait for the voice mail to pick up and leave a short message....etc. YOU CAN DO JUST ABOUT ANYTHING IN 2 MINUTES.
However in the state of TN, 2 minutes is not enough to be considered born alive, despite the health you were born into. Wyatt was born June 1, 2009 and lived for 2 minutes, but the state of TN, is not recognizing those amazing 2 minutes of life and they have considered him still born. Please help Danielle fight for Wyatt, this brave mother carried to term despite his fatal diagnosis she said
"
Those 2 minutes will probably be the most precious 120 seconds of my life. If I had chosen to terminate the pregnancy, I would have robbed Wyatt of his life and I would have robbed the world of all the beauty my 4 pound 0.6 ounce little boy brought with him." http://myveryownangel.org/Why-I-Carried-To-Term.php
Suppot Danielle and by clicking on the button on this post and visit her blog
Letting Go and Letting God